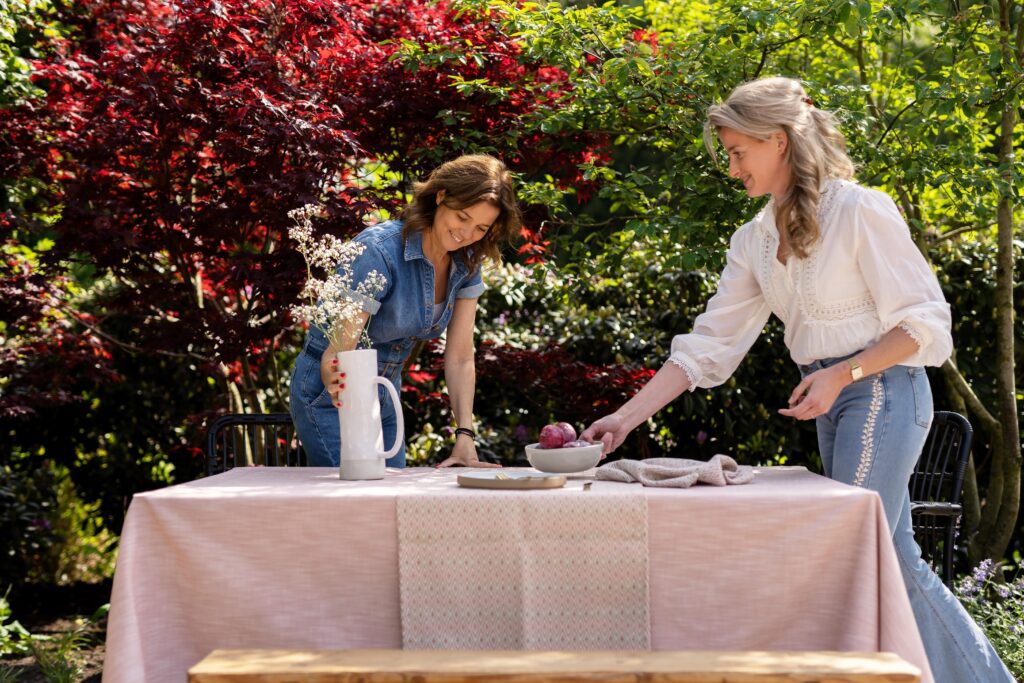 How it all began…
LAZE originated from personal frustration that there were no large outdoor rugs or beautiful tablecloths that could truly stay outside. It was especially lacking if you were looking for a combination of beautiful designs, sustainability and quality. The disbelief that such products didn't exist persisted for years, and that's how the idea to bring them to the market was born.
We, Valerie & Ilse, had been working together in various companies since 2011. First in the magazine industry, then in the wine industry, and later as volunteers on the board of a foundation dedicated to improve children's medication. Somehow, our paths kept crossing, and by now, we understand each other with just one word and complement each other well. When Valerie pitched the idea to Ilse, she was immediately enthusiastic, and the very next day, we started working on setting up LAZE.
The name: LAZE
LAZE is "slang," or street language, for spending time in a relaxed, leisurely manner. Not doing too much. That's precisely the philosophy that forms the basis for the selection of all our products – products that don't come with a hassle. Products that can handle a rain shower, so you don't have to put them away every day. That dry quickly when they get wet, so you can sit in the sun again soon. And that don't fade in the sun. And last but certainly not least… products that are easy to clean with some water and soap or in the washing machine.
The Brand – Sustainability & quality
Quality and sustainability are at the heart of LAZE. All our products are resistant to water, sun, and stains because they are made from recycled plastic waste and specially designed for outdoor use. You don't have to worry about sudden rain showers, fabrics that quickly fade in the sun, or stubborn stains like red wine. So this ensures the longevity of our products.
But it doesn't stop there because we believe you can only enjoy your outdoor space when nature looks beautiful and healthy. Working as sustainably as possible throughout is essential to us. We aim to minimize our ecological footprint, which we see as an ongoing process. For example, we deliberately do not import fabrics from outside of Europe, our own LAZE products are handcrafted in the Netherlands, and we always use recycled packaging materials. Because: beautiful things shouldn't cost the earth.
The Future
Since our start in March 2022, in less than four months, we've purchased a collection, developed a logo, built a webshop, and sold our first product. But that was just the beginning because the dream was to develop our own brand and products. And in just over a year, our own LAZE collection was available in three stores. It includes tablecloths, table runners, placemats, and cushions – all made from recycled plastic waste and suitable for outdoor use. Completely self-developed from scratch.
We love doing what we do and are proud of all the achievements in this short time. We'd love to hear your experiences and your wishes because they help us improve. So, we're eager to know what makes you happy, but also what you might want differently, as we learn from your feedback.
Valerie & Ilse